England and Germany get red-card happy referee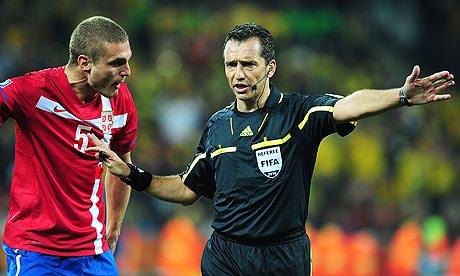 The England and Germany players who face each other in Bloemfontein on Sunday will have to tread with some caution after it was announced today that the referee in charge of the last-16 tie is known for his high red-card rate.
Jorge Larrionda, of Uruguay, has dismissed a player in an incredible 70% of games he has refereed since making his international debut as an official in 1999. At the last World Cup, the 42-year-old send off three players in the group match between Italy and the USA.
In 2006, Larrionda, who is himself a former striker, also sent off a player in each of the six Copa Libertadores matches he took charge off.
The official has already caused controversy at these finals when he decided not to award a penalty to Serbia in their crucial final Group D match against Australia on Wednesday after Tim Cahill appeared to handle the ball. The match ended 2-1 to Australia and a draw would have been enough for Serbia to qualify for the knockout stages.
"The ref had a black day when it came to Serbia," said their manager Raddy Antic afterwards. "The referee, including the fourth official, did not want to see a foul that was quite obvious.
"We are angry when it came to this decision. We did not get fair treatment, we deserved more than we did get and we have to go home now."
According to Fifa, Larrionda enjoys breeding animals, mainly birds, dogs and parrots.
Only registered users can comment.